CARLY PEARCE ANNOUNCES DEBUT ALBUM, OUT
OCTOBER 13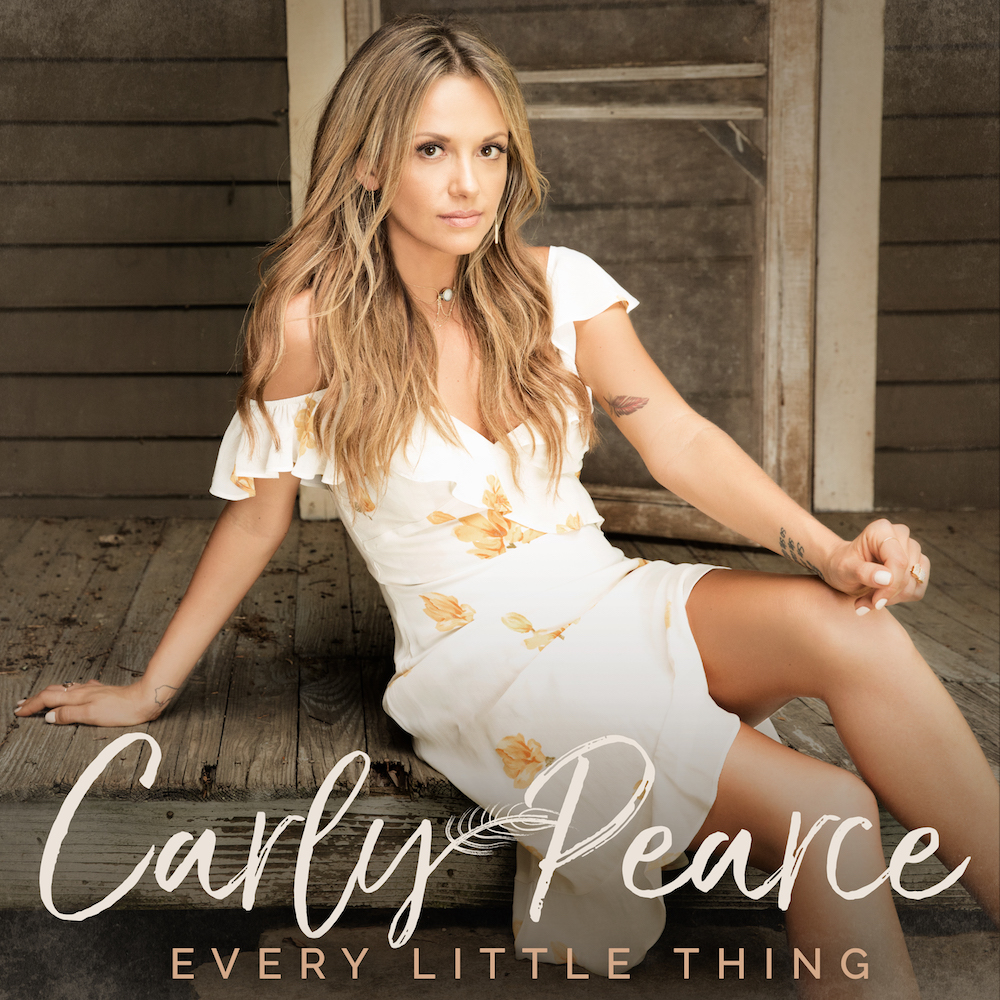 NASHVILLE, TN (August 23, 2017) – CARLY PEARCE returned to SiriusXM The Highway in Nashville yesterday (8/22) to share big news with host Storme Warren – her highly-anticipated debut album. EVERY LITTLE THING, out October 13 on Big Machine Records, offers insight into her songwriting muses from the feisty "Careless" and evocative "Dare Ya" to the breakthrough title track. From the first spin of "Every Little Thing," SiriusXM has been a strong advocate marking the song a "Highway Find" before it topped the chart for three weeks, earned her "Future Five for 2017" status and prompted "If My Name Was Whiskey" to be added into rotation as "Every Little Thing" continues to rise at terrestrial radio. Carly is currently the only solo female charging into the Top 15 on the Country radio airplay charts with her soul-bearing title track and was chosen as an esteemed all-genre iHeart ON THE VERGE artist earlier this year, in addition to being the first artist tapped for Cox Media's Plugged In program.

"Music is all I've ever known, all I've dreamed of, and now more than I could have imagined growing up in Taylor Mill, Kentucky," explained Carly. "My journey has been long but so worth it each time I hear 'Every Little Thing' on the radio or sung back to me from a crowd. I'm so grateful and excited to share more of the songs I wrote alongside some of my biggest inspirations and those where others penned the words of my story. I hope this album will be worth the wait … I know it has been for me!"

Collaborating in both writing and recording with sought-after producer busbee (Katy Perry, Keith Urban, Lady Antebellum, Maren Morris, Kelly Clarkson), the 13-track album reflects Carly's textured vocals and emotive songwriting sensibilities across eight of the tracks. From the regional Bluegrass band she joined at age 11 to being homeschooled at 16 so she could take a job singing hours away, her passion has grown over the last nine years in Nashville. Her tenacity has shaped not only her character but come alive throughout her lyrics and performances, earning coveted spots on the road with Kelsea Ballerini, Kip Moore and Hunter Hayes. Carly is currently a special guest on Bobby Bones: FUNNY & ALONE STAND UP COMEDY TOUR and will join Brett Young on his CALIVILLE TOUR this fall.

EVERY LITTLE THING TRACK LIST
1. "Hide The Wine" | Ashley Gorley, Luke Laird, Hillary Lindsey
2. "Careless" | Carly Pearce, Emily Shackelton
3. "Every Little Thing" | Carly Pearce, busbee, Emily Shackelton
4. "Everybody Gonna Talk" | Carly Pearce, busbee, Emily Weisband
5. "Catch Fire" | busbee, Natalie Hemby
6. "If My Name Was Whiskey" | Carly Pearce, busbee, Shane McAnally
7. "Color" | Carly Pearce, busbee, Laura Veltz
8. "I Need A Ride Home" | Ashley Gorley, Matt Jenkins, Hillary Lindsey
9. "Doin' It Right" | Carly Pearce, Oscar Charles, Allison Veltz
10. "Feel Somethin'" | busbee, Natalie Hemby, Shane McAnally
11. "You Know Where To Find Me" | Carly Pearce, busbee, Emily Shackelton
12. "Honeysuckle" | busbee, Barry Dean, Hillary Lindsey
13. "Dare Ya" | Carly Pearce, Joe Ginsberg, Allison Veltz