CHASE RICE ANNOUNCES LIVE ON "GOOD MORNING AMERICA": THE ALBUM PART II SET FOR RELEASE MAY 15

Rice Performs Top 25-and-Climbing Single "Lonely If You Are" from His Home in Nashville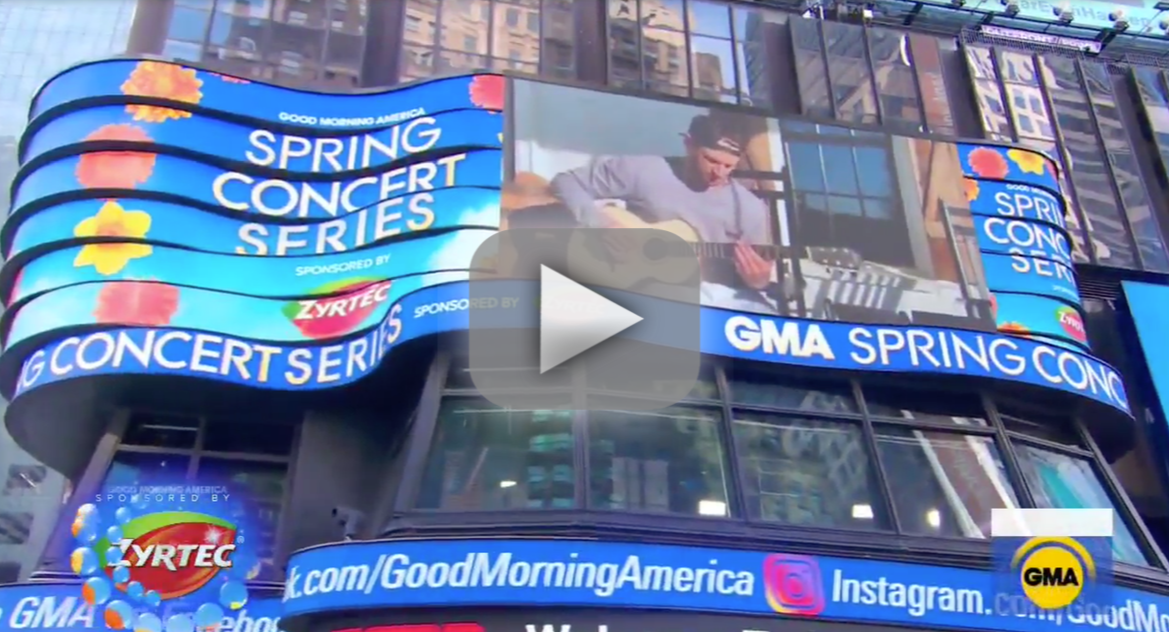 WATCH

: Chase Rice performs Top 25-and-climbing single "Lonely If You Are" live from his farm in a special "Good Morning America" appearance
NASHVILLE, Tenn. – Fans will soon have new music to enjoy from Chase Rice, as the multi-Platinum entertainer announced The Album Part II set for May 15 release during this morning's appearance on "Good Morning America."

Rice FaceTimed into the show to perform current Top 25-and-climbing single "
Lonely If You Are
" live from his farm in Nashville, Tenn. in a special appearance. Watch
HERE
.

As GMA co-host Michael Strahan exclusively announced during the live broadcast, Rice will release a four-song EP, The Album Part II, on Friday, May 15. The digital project, titled in keeping with January's chart-topping surprise release of seven-song
The Album Part I
, will combine with that earlier collection and additional forthcoming songs for an eventual all-encompassing physical product entitled The Album.

"We've been eager to get more new music out to the fans, especially during this crazy time," shares Rice. "I'm really proud of these songs and hope they can bring a little joy to people while they're stuck at home… and I can't wait to play them live for you when we're back on the road together soon!"

The Album Part II
Track Listing
1. You (Chase Rice, Jon Nite, Zach Kale)
2. Break. Up. Drunk. (Chase Rice, Hunter Phelps, Jordan Schmidt)
3. Down Home Runs Deep (Daniel Ross, Michael Hardy, Mike Walker, James McNair)
4. Belong (Chase Rice, Chris DeStefano, Jon Nite)
Produced by Chris DeStefano

For more information, visit
www.chaserice.com
. Follow on
Twitter
and
Facebook
@ChaseRiceMusic and on
Instagram
@ChaseRice.

About Chase Rice
With over 1.7 million albums sold and more than 1.3 billion total streams, plus a legion of passionate fans at his high-energy concerts across the globe, Chase Rice has established himself as a powerful force in Nashville and beyond – but he genuinely sees new releases The Album Part I and The Album Part II as the launching pad for music that says what he wants to say, how he wants to say it. With songs such as lead single "Lonely If You Are" featuring sleek rhymes over heartland six strings and keys mixed with EDM-laced drama, this is the same gravely-voiced Chase Rice fans first fell in love with years ago – but better. Freer. Unbeholden and uninhibited, somehow capable of evoking Chris LeDoux and The Chronic, campfire singalongs and stadium anthems, all at once. The series follows his sophomore album, Lambs & Lions, released with Broken Bow Records in 2017 and featuring two-week chart-topper "Eyes On You" – Rice's first No. 1 as an artist and the most-streamed song of his career with over 350 million streams and counting. Lambs & Lions followed Ignite the Night, which debuted at No. 1 on Billboard's Top Country Albums and No. 3 on the all-genre chart, producing a pair of Top 5 hits; "Ready Set Roll" and "Gonna Wanna Tonight." After supporting Kenny Chesney's The Big Revival stadium tour, Rice has consistently sold out 2,500-3,000 seat venues on his own headlining tours.